The introduction of the mobile crusher plant
Mobile crusher with a new concept, new technology, with far more than the same type of product crushing efficiency, adjustable material size to meet the needs of customers for different materials specifications. Through the operation of large-scale gravel production line, mobile crusher novel broken design, to meet the "more broken less grinding" new technology requirements, "stone blacksmith" principle is not only broken than large, and the unit power consumption Lower, in the field of mineral processing has a good crushing effect.
A crusher material that uses impact strength to break material. It has multiple crushing chambers. The motor drives the rotor to rotate at high speed, the stone enters into the crushing chamber, collides with the high speed hammer, is thrown with the brick machine above the counterattack of the moving crusher crushing, bouncing back to the hammer working area so again being repeated, repeating the above action, Material by the first and second crushing chamber repeated role, was broken into the required particle size, and discharged from the discharge port.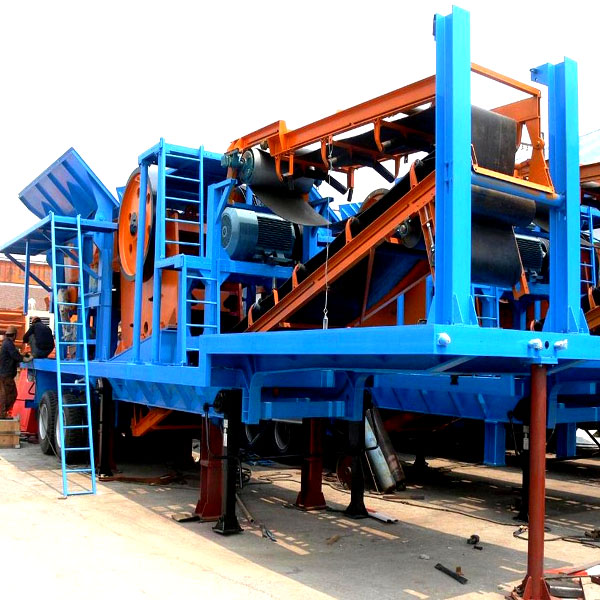 Due to the working environment of the mobile crusher, it is important to counter the selection of the material of the mobile crusher and the parts of the equipment. The quality determines the service life of the equipment. Plate hammer and more high manganese steel, high chrome and other high wear-resistant alloy material, counterattack mobile crusher liner and counterattack plate and more use of high-Meng steel, in the casting process by quenching to ensure that the liner and counterattack plate Excellent wear resistance and resistance to fight ability.
XINHAI Heavy Industry mobile crusher model is complete, according to the customer's materials, production, material size and other requirements, tailored for customers with gravel production lines, sand production lines, gravel production lines and other technology. Often equipped with mobile crusher equipment Jaw type mobile crusher, impact type mobile crusher, shaker, feeder, belt conveyor and other equipment, commonly used in processing, diabase, basalt, marble, Limestone, granite, quartz stone and other materials.
Inquiry >> Please feel free to give your inquiry in the form below. We will reply you in 24 hours.